Homes & businesses throughout Fayette County trust Engineered Heating & Air!
Since 1996, homes and businesses throughout Lexington, KY have trusted Engineered Heating & Air. Now, after decades of excellent craftsmanship and value-added, cost-effective energy solutions, positive word of mouth drives nearly all our business. We credit our no-nonsense approach and technical expertise for enthusiastic customers throughout Fayette County and Central Kentucky. But we're not content to rest on our laurels. We know that each job and each customer requires our utmost attention so that they can focus on what matters most—making Lexington one of the best places to live in the country.
At the end of the day, we're engineers first. Engineered to be the Best! When you call Engineered Heating & Air, you get solutions, not sales pitches. That's our promise to you, whether we're performing furnace repair at your single-family bungalow or AC installation at your multi-family property or industrial building. Our indoor air quality services ensure a comfortable living or working environment. Our geothermal know-how is second to none throughout the Bluegrass. Let us keep your Lexington home or business comfortable throughout the seasons. For service, call us today at (859) 818-9220 or contact us online!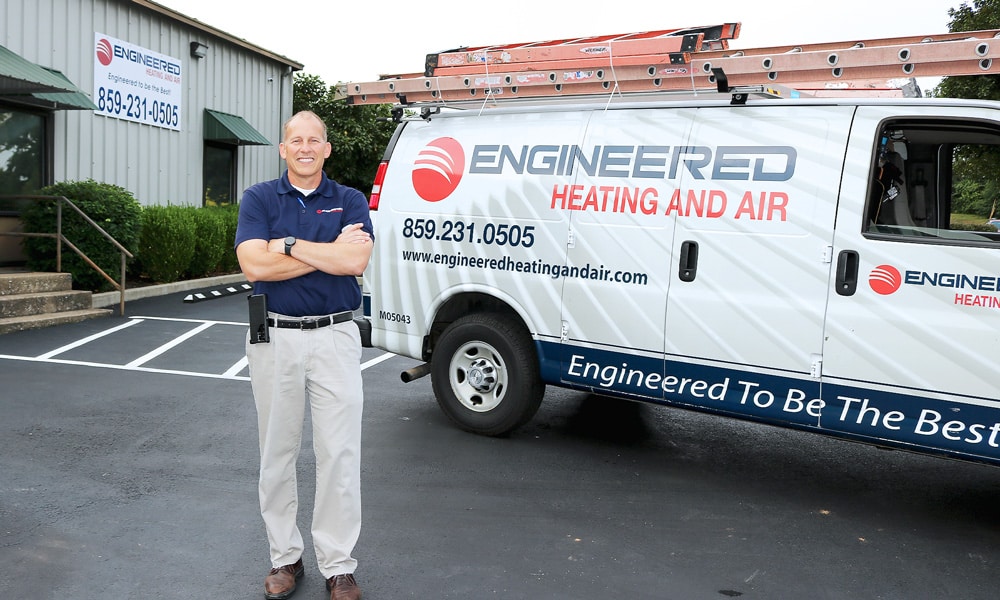 Let Us Know How We Can Help You, Lexington!
For HVAC service, indoor air quality services, air purification, or heat pump conversions, give us a call today!
Keep your home or business running strong all year long!
* Indicates required questions
"*" indicates required fields
Serving Everyone in Lexington, KY & Beyond
Lexington's healthy mix of residential and commercial properties keeps the city thriving. That's why we offer residential and commercial HVAC services, indoor air quality services, and so much more throughout Fayette County and Central Kentucky. Keep your single-family home comfortable with our AC repair, or warm your commercial building with our heat pump and furnace installation solutions. At home or at work, we make dependable comfort and breathable air our top priorities. Proudly serving multi-family properties, hospitals, industrial sites, offices, retail stores, houses of worship, schools, and everything in between, Lexington has a trusted advisor in Engineered Heating & Air. Learn more about our residential and commercial services or contact us today.
Why Choose Engineered Heating & Air?
Get the No-Nonsense HVAC & Energy Solutions You Need
At Engineered Heating & Air, we wear our love for Lexington on our sleeves. Let us put our passion, dedication, experience, and skill to work in your home or business so that you can keep making Lexington great. Contact us today!