Discover a better way to heat & cool your home or business in Lexington.
By most accounts, heat pumps are the way of the future. But like any new tech, not everybody catches on all at once. In Lexington, homeowners and business owners with an eye toward tomorrow may be actively considering heat pump installation. Meanwhile, early adopters may require regular maintenance but struggle to find a local company. At Engineered Heating & Air, we support forward-thinking residents with heat pump installation, maintenance, and repair—whatever it takes to keep you comfortable in your home, warehouse, office, or multi-family property.
Over the last three decades (and counting) we've helped and watched Lexington grow into the Athens of the West. To support our modern-day boom town, we offer expert advice, a no-nonsense guarantee, and 100% satisfaction on all our heat pump services. If you're new to heat pumps, considering a heat pump for your new construction, or already enjoying this 21st-century heating and cooling advancement, call Engineered Heating & Air at (859) 818-9220 or contact us online!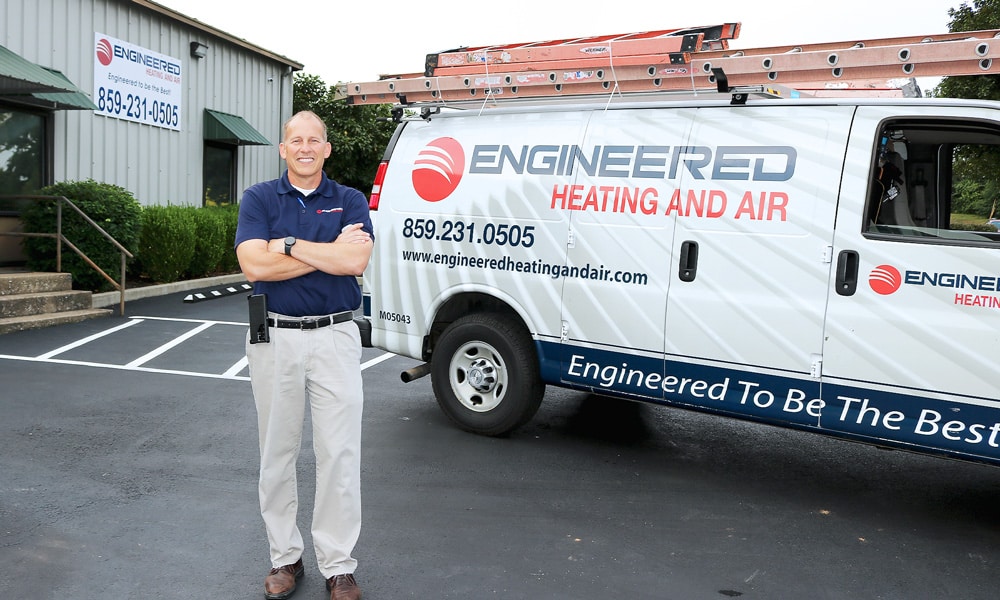 Engineered Heating & Air keeps your heat pump pumping!
From brand-new heat pump installation to regular maintenance, we support heating systems throughout Fayette County!
Let Us Service Your Heat Pump Year Round
Cutting-edge heating solutions demand 21st-century attention and maintenance. But not every heating company can also call itself a heat pump company. At Engineered Heating & Air, we specialize in all things heating and cooling. That's why we include heat pumps in our industry-leading HVAC Protection Plan. For just $199 per unit, per year, and $100 more for each additional unit, we provide two tune-ups, a general inspection, a ductwork inspection, cleaning, filters, a thermostat calibration, and even stick around to tighten every last connection. Regardless of your preferred heating method, we deliver excellent heat pump maintenance year-round! Learn more and sign up today!
Embrace the future of heating & cooling in Lexington.
* Indicates required questions
"*" indicates required fields
Why Choose Engineered Heating & Air?
Trust us With Your Lexington Heat Pump Installation & Repair
We're not always rewarded for being forward-thinking, but with Engineered Heating & Air, your modern heating system can get the attention it deserves from an HVAC company that truly cares. Contact us today for Lexington heat pump maintenance and more!