Furnace Installation & Repair
Keep your furnace in tip-top shape so that it can keep you warm.
Winters in Lexington and the Bluegrass Region are no laughing matter. With ample snow, biting wind, and days on end without a ray of sunlight, homeowners and business owners need heating on demand. At Engineered Heating & Air, we know how to keep your furnace fit as a fiddle. We put our three decades of experience to work on every furnace installation and furnace repair job we're asked to perform. As engineers, we pride ourselves on offering solutions, not sales pitches. That's part of our no-nonsense promise to residential and commercial clients throughout Kentucky.
Your furnace may quit on you for numerous reasons. Age, moisture, and faulty components can quickly compromise your primary heating system. With lifespans ranging from 15-20 years, homes and businesses will need a new furnace installation at some point, painful as the idea may be. Thankfully, with exceptional financing and a dedication to quality, we make replacing your furnace as easy as possible. When your old furnace roars, cries, rattles, or won't turn on at all, it may be as simple as replacing this or that part. To get the expert heating help you need from Lexington's #1 HVAC company, call Engineered Heating & Air today at (859) 818-9220 or contact us online!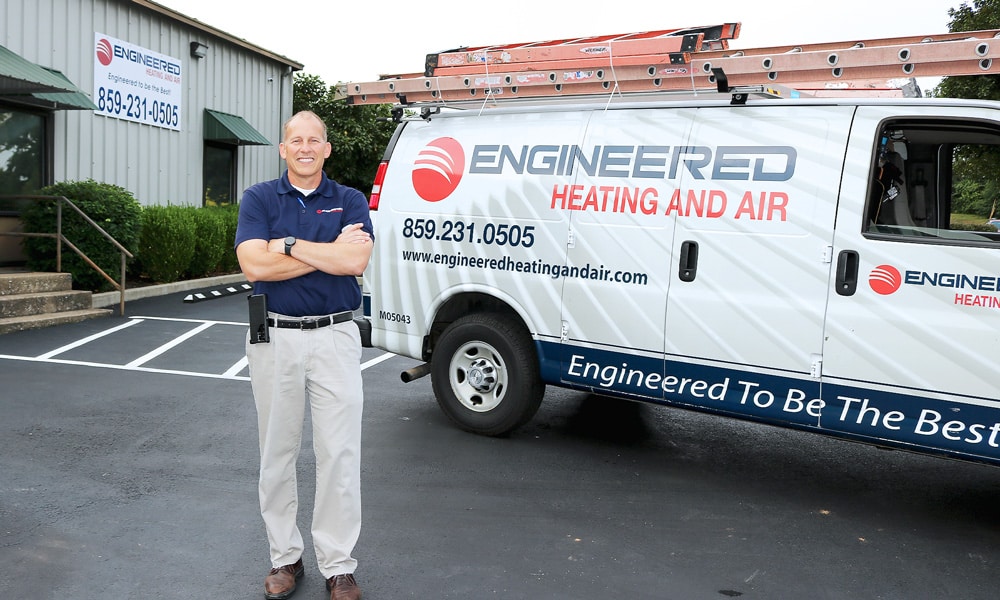 Trust your furnace come winter. Trust Engineered Heating & Air!
Don't wait until the first frigid day of the year to find out your furnace needs repair or replacement. Let us get it ready for you today!
Keep Your Furnace in Peak Shape All Year Long
Residents and business owners throughout Lexington are busy keeping our state and city on the world stage. You shouldn't have to take time out of your day to schedule furnace repairs or inspections. To keep your heating system in peak shape, Engineered Heating & Air offers our one-of-a-kind Protection Plan. For just $199 per unit and $100 more for each additional unit, you receive two scheduled heating and AC tune-ups per year, including a cleaning, new filters, ductwork inspections, and a thermostat calibration. Don't guess about the health of your furnace. Join our Protection Plan and know that it's ready to go whenever you need it. Learn more and sign up today!
Keep a warm light burning in Lexington!
* Indicates required questions
"*" indicates required fields
Why Choose Engineered Heating & Air?
Let the Engineers Handle your Lexington Furnace Installation or Repair
You, your family, and your employees deserve a warm environment to live and concentrate in. Let the experts at Engineered Heating & Air put three decades of service to work for you on your next furnace installation or furnace repair job! Contact us today.